GO FOR THE BEST – the ultimate in luxury, style and function maximizes enjoyment while ensuring comfort and safety.
Luxury Grande Vanity Top With Mirror, Basin, Cabinet, Designer Tap. Full complete set -RM1550 ONLY (Retail RM2800)
Using High Quality Stainless steel material
Full complete set as you see on the photo ( Most Luxury material used )
FREE GIFTS with purchase!! Total value of FREE Gifts is RM1200!
Luxury Designer Tap ( Worth RM400 )
Matching Designer Mirror ( Worth RM500 )
Matching tempered glass storage ( Worth RM300 )
Breathtaking design meets unrivaled craftsmanship in the INOVO® Tailored vanity collection. No detail was overlooked in the meticulous crafting of this collection, from the premium Stainless steel to the specially designed hardware and vanity tops. Fully customize to fit small bathroom with slim width from 48cm to smallest 40cm only. Design for small houses, small condo bathroom.
Unique Luxury Design, why spend thousands of dollar to interior designer when you can get starting from RM1150. Many size is available to choose from.
SAVE at least RM1000 from custom made or purchase from retail shop! Wholesale Price! No hidden cost! Price excludes installation.
Product parameters:
• Type: Vanity Combo
• Mirror: included
• Material: High Quality Stainless Steel
• Table type: one ceramic basin
• Combination form: bathroom mirror cabinet with faucet matching basin
• Style: Simple modern
• Size Category : 60cm – 120cm
Features:
• Long lasting Shine & Strength
• Rectangular mirror cabinet
• Modern design, Stainless steel bathroom cabinet.
• Door and cabinet material: High Quality Stainless steel
• Basin material: Ceramic
• Stainless steel drawer under the basin
• Stainless steel construction in white Finish
• Doors with Soft-Closing feature
• Door Drop Handles
Special Promotion Price:
• 60cm- RM1550
• 70cm- RM1850
• 80cm- RM2150
• 90cm- RM2450
• 100cm- RM2750
• 110cm- RM3050
• 120cm- RM3350
Top Up RM300 only for a Side Cabinet as shown in the photos. ( Awesome value!! )
( NETT Price and FREE Delivery in wooden crate packaging ) Refer to shipping page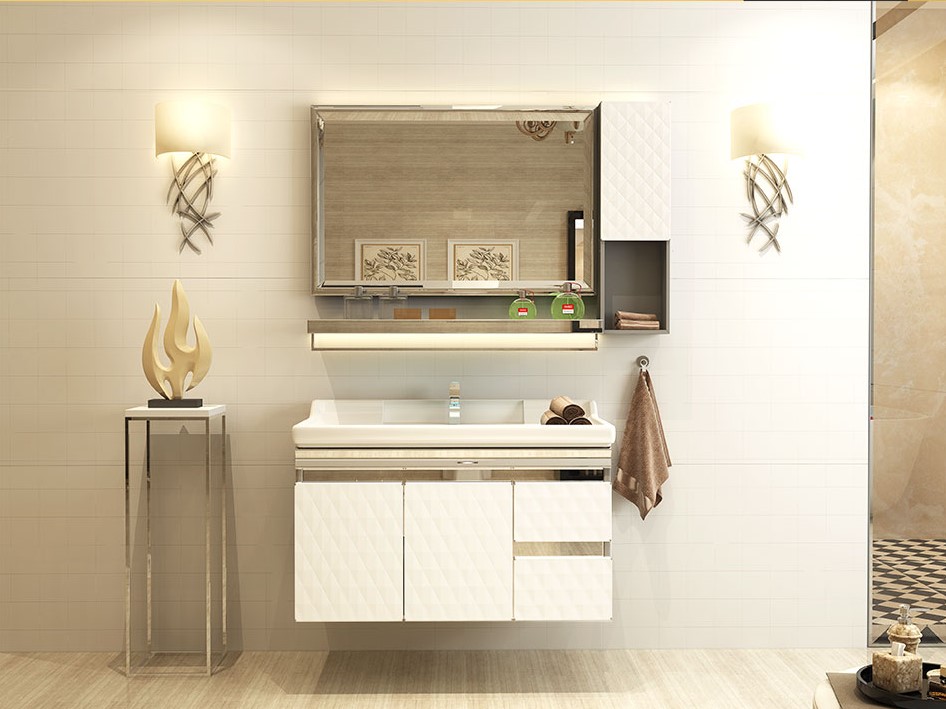 We have 14 different design and colours to choose from our main Bathroom Series Page ( White, Black, Gold and many more!! )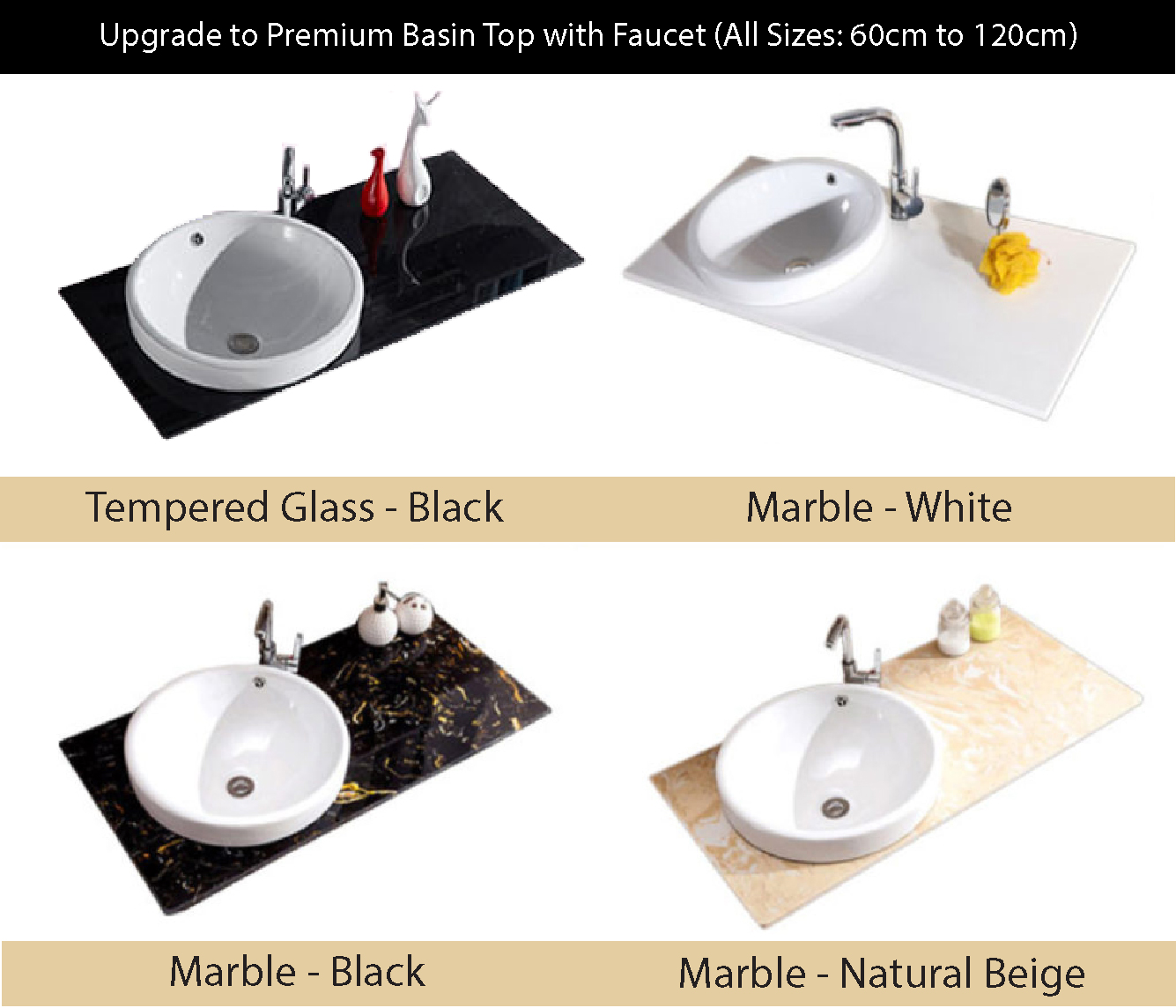 Premium basin counter top and matching faucet upgrade:
Just add to cart for the material and colour you like. Upgrade at only RM300 extra. ( Awesome value!! )
Choice of Ceramic Stone and Marble as above picture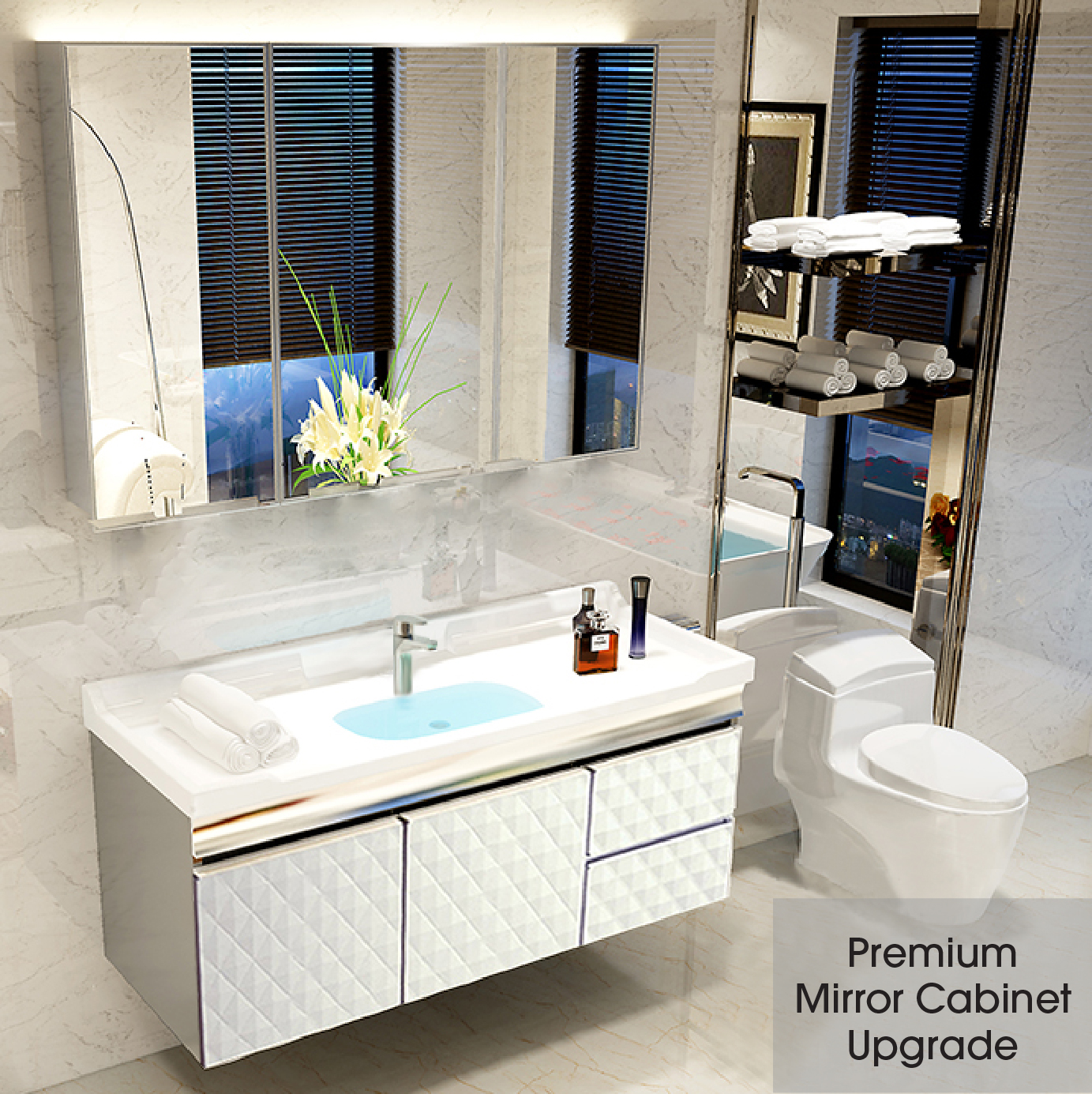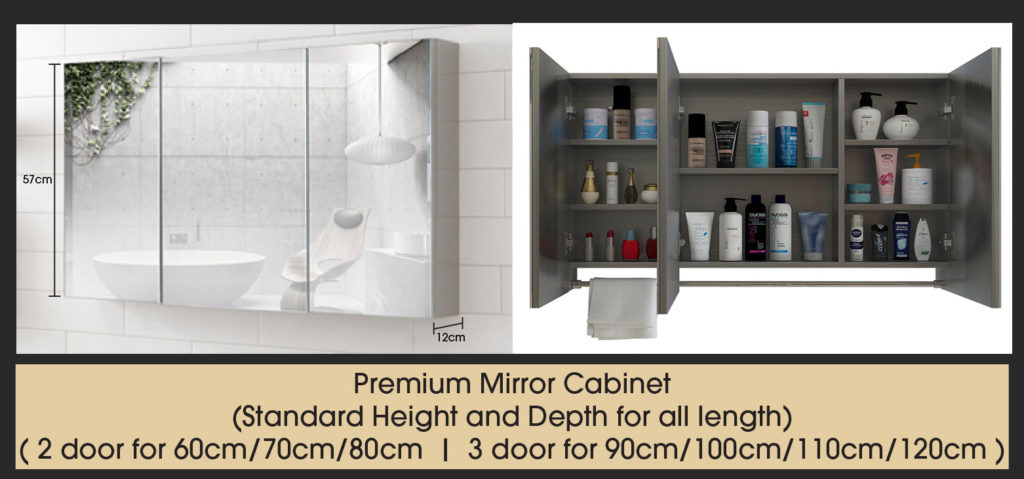 Premium Mirror Cabinet upgrade:
Just add to cart in the selection. Upgrade at only RM600 extra.( Awesome value!! )
Standing Cabinet Version upgrade (2 doors/3 Drawers as shown above)
40% more storage! ( Awesome value!! )
Just add to cart in the selection. Upgrade at only RM600 extra.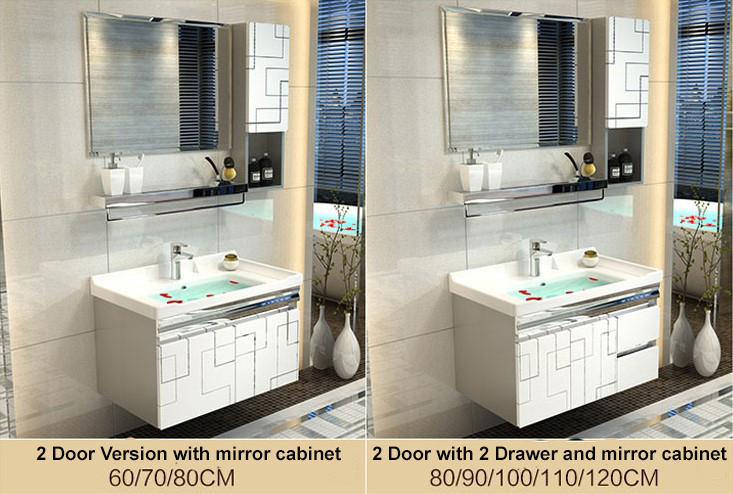 Product FAQ:
Q: May I know what is the free gifts that i will be receiving?
A: You will be receiving the Mixer Tap, Matching Designer Mirror and Matching Glass Shelve with Towel Hanger. Total value of FREE Gifts worth RM1200
Q: What is all the sizes you have for the vanity cabinet?
A: Our cabinet size start from 60cm and every increase will be 10cm. We have sizes all the way to 200cm for some designs and come with double sink configuration.
Q: I will like to upgrade premium counter tops, premium mirror cabinet and also change to standing version. How can i purchase it?
A: It is very simple, just add the size of the vanity cabinet you like. After that just add each upgrade you like to your cart also and then checkout will do.
Q: I am not sure if the water connection will be able to fit my current bathroom
A: From the back of the vanity it is open setting, designed to fit all type of water pipe and connection for all type of houses. All plumbers will know how to set it up easily.
Q: How is the finishing and Quality? Is the door soft closing?
A: Yes all doors are soft closing. We only use the most premium quality material to built our vanity cabinet.
Q: Can I purchase the item first and request to deliver at a later date like months away?
A: Sure you can put a remark for the later date or just put a note that the delivery date to be advise as we understand some customer's house is still under renovation.
Q: How to buy this product?
A: Simply add item to cart and checkout. We will provide Free Delivery to you.
____________________________________________________________________________________________________________________________________________________________________________
SERVICE & SUPPORT
___________________________________________________________________________________________________________________________________________________________________________

Have a question about this product?
10:00am – 6.00pm (Monday – Friday)
Closed on Saturday, Sunday and Public Holidays