INOVO® FAN AS FEATURED IN 

GO FOR THE BEST – the ultimate in luxury, style and function maximizes enjoyment while ensuring comfort and safety.
( INOVO®  Lumi Hideaway Fan with LED Light in Black )
German Design and Technology
Flash Sale: RM899/RM999
Retail Price: RM1390/RM1490
( Flash Sale: You save RM500! )
Nett Price and Free Delivery
100% Pure Copper Material used for Motor
Energy Saving DC Motor
We accept "Cash On Delivery" payment mode
100% Pure Copper with High temperature stoving varnish, double surface colour treatment. Same Technology use in car finishing.
This latest technology INOVO® Brilliante Hideaway have 3 speed DC Motor with Turbine Design Fan Blade that produce continuously wind performance and extremely quiet compare to old traditional fan which is very big but wind is weak.
FREE GIFTS with purchase!!
( Free upgrade to Energy Saving 360 degree LED light bulb ( Worth RM150 )
Product Highlight:
INOVO Lumi Hideaway Ceiling Fan With LED Light
(2 sizes for whole house installation)
36 inch-24W (Full size with 4 blade: 91cm)
Suitable for whole house application
( Promotion Price RM899 )
INOVO® Ultra Slim Design only 33cm thickness from ceiling. Suitable for low ceiling houses or with false ceiling installed. We include 2 fan pole (10cm and 20cm) for you to interchange between low ceiling and high ceiling. It is extremely quiet and energy efficient. DC Motor use less energy – up to 70% less than a standard AC fan. This help save energy, and in turn, save money.
– Multi-functional, Energy-Saving DC Motor.
– Quiet, smooth and continuously wind performance
– 3 speed full function remote controller
– 3 type of light effects (Warm, White, Cool white )
– Minimalist and Elegant design
( NETT Price and FREE DELIVERY in West Malaysia Included! )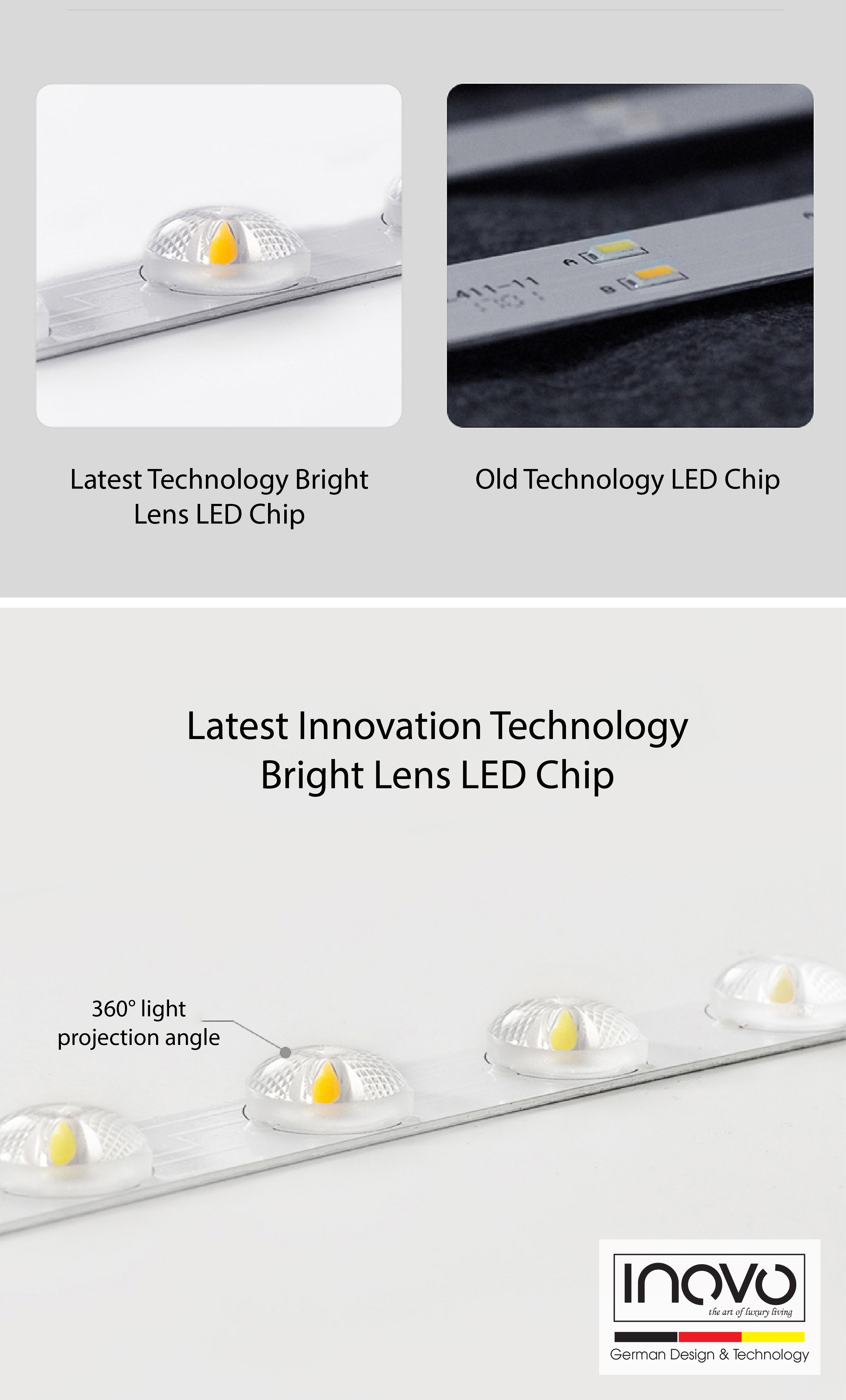 INOVO® Lumi Hideaway is an advanced ceiling fan with unique aesthetics and energy efficient design. Switched off, the traditionally intrusive fan blades automatically retract and conceal, and visually the unit transforms into a slim, modern light pendant. Turning the fan on creates a centrifugal force which deploys the blades to circulate air within a room.
It creates open space in the room environment, accumulates less dust, and is unobtrusive and versatile to visually integrate into most building interiors. Function and quality of interior space fan away functions both as a light pendant and a ceiling fan. The unit effectively hides the blades from view when not in use.
When the fan is turned on, the blades gracefully open out and start pushing air as required. When switched off and the motor starts slowing, the blades slowly retract into the unit and are hidden from view. By hiding the blades when not in use, the space around the normally obtrusive blades is cleared creating a less cluttered overhead environment.
Apart from providing a clutter-free environment, INOVO® Lumi Hideaway provides a very different environment in comparison to standard ceiling fans or lights. Using quality materials and finishes, INOVO® Lumi Hideaway sets its own standard from an interior design and styling perspective.
Product FAQ:
Q: Is the wind strong enough?
A: It has 3 speed selection. Most customer feedback only use up to speed 2 as small items in the room will be blow away if using full speed.
Q: Is the light bright enough?
A: Yes we are using Ultra Bright Energy Saving 360 degree LED light bulb. Most customer find it bright enough.
Q: The fan come in how many blades and what is it made of?
A: There is a total of 4 blades made of acrylic
Q: How many watt is the light and diameter of the light?
A: 24w and diameter 40cm.
Q: How do you control the fan speed and the light mode?
A: It is fully controlled by remote control and light mode can select (White Light, Warm Light and Neutral Light )
Q: Can we easily buy replacement led light from neighborhood hardware store?
A: Yes you can. It will cost estimated about RM20-RM30.
Q: Is it suitable for Low ceiling?
A: We include 10cm and 20cm pole. For low ceiling you can select 10cm pole.
Q: What is measurement from ceiling to light cover after install?
A: If you choose to use 10cm pole it will be only 33cm after installed. This is the slimmest ceiling fan with light you can find in the market.
Q: Is it noisy after install?
A: It is very quiet operation.
Q: How do you clean the fan blade?
A: Just pull out 2 blade from each side during off mode.
Q: If i need installation how does it work?
A: We supply the product with Free Delivery included. You can easily look for any handyman or plumber to assist you on the installation.
Q: What is your delivery timing?
A: We deliver between 9am-6pm from Monday to Friday and Saturday will be 9am-1pm. You can also put a remark at the order page to deliver 9am-1pm or 1pm-6pm.
Q: Can I purchase the item first and request to deliver at a later date like few months away?
A: Sure you can put a remark for the later date or just put a note that the delivery date to be advise as we understand some customer's house is still under renovation.
Q: Do you have a showroom to view the items or any distributor shops where we can see the items?
A: Our office is a warehouse not a showroom so there is no display of our products and all items are brand new sealed in box. We supply directly to customer without distributor so that consumer can enjoy attractive low pricing without any markup from local stores.
Q: Is there a refund policy?
A: Within 7 days all items purchase from us can be returned for a refund subject to term and conditions.
Q: How to buy this product?
A: Simply add item to cart and checkout. We will provide Free Delivery to you.
Q: After I make payment online, can I do a self collection at your office today during office hour?
A: Yes after you place an order online. Please email your order number to [email protected]. We will provide you the collection details and do allow 2 hours for us to prepare your order.
Q: Can we pay cash at your warehouse and collect today during office hour?
A: Yes, please place an order online from our website and choose bank transfer method. No payment will be required just leave us a remark at the order page that you need to self collect and give us 2 hours to prepare your order. We will email you the collection details and you can just pay cash at our warehouse.
Q: We are worried if I pay by credit card and will not receive the items, can you accept cash on delivery?
A: Yes, please place an order online from our website and choose Cash On Delivery method. No payment will be required before you receive the items. This is a promise to our customer and quality assurance for all our products.
( NETT Price and FREE DELIVERY to Singapore and West Malaysia Included! )
___________________________________________________________________________________________________________________________________________________________________________
SERVICE & SUPPORT
___________________________________________________________________________________________________________________________________________________________________________
Have a question about this product?
10:00am – 6.00pm (Monday – Friday)
Closed on Saturday, Sunday and Public Holidays