GO FOR THE BEST – the ultimate in luxury, style and function maximizes enjoyment while ensuring comfort and safety.
INOVO Forte:
Sleek and striking, the Forte offers a professional-style kitchen faucet in double water outlet and two spout heights, featuring a 360° turnable spring arm for maximum flexibility and a solid metal spray which allows for easy switching between mousseur and spray function. The Forte also offers a swivel spout and variants with extractable dual spray and side sprays which guarantee the highest performance levels as well as stunning design.The Forte offers the ultimate flexibility for kitchens where performance really matters.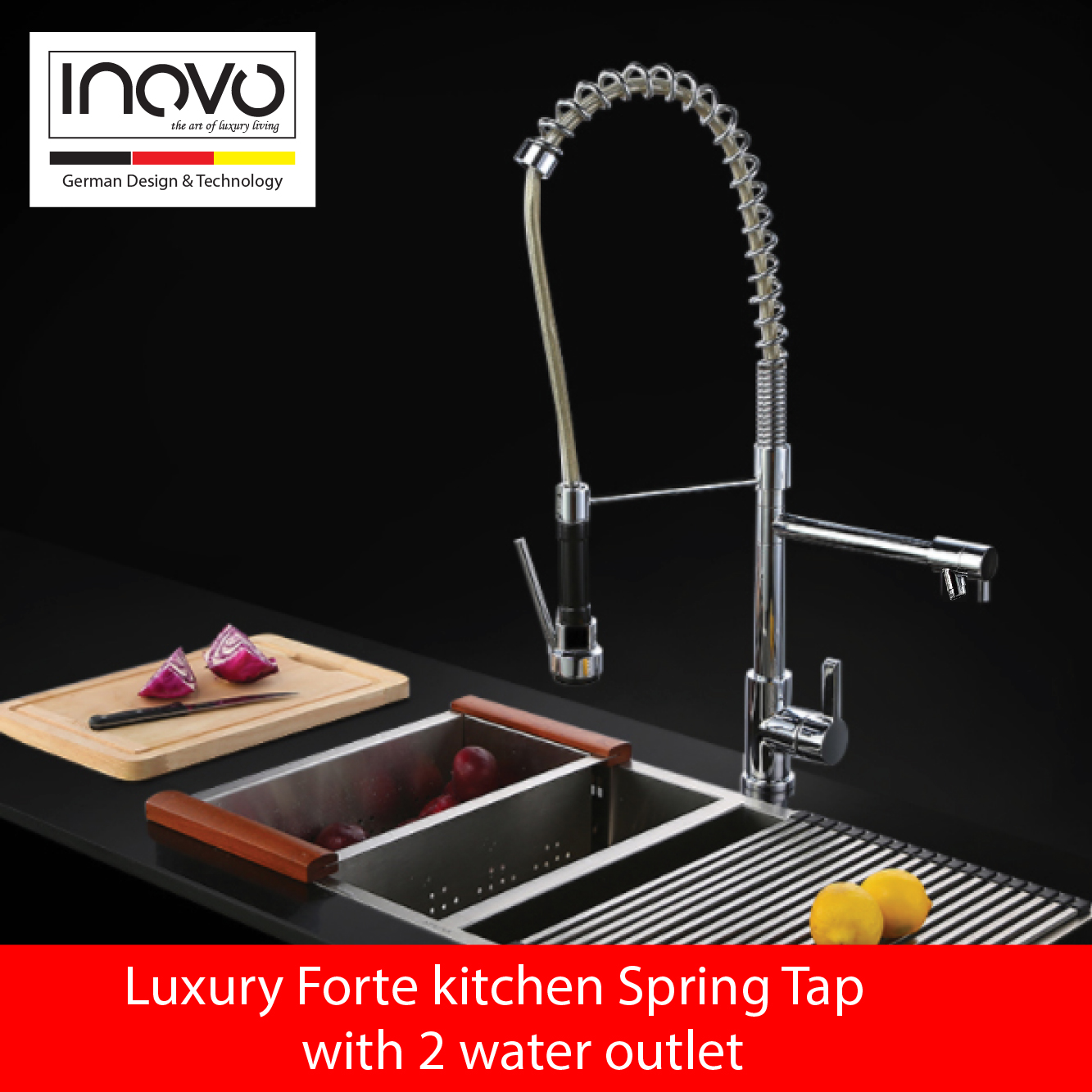 With the INOVO Forte, we are redefining the focal point of your kitchen. You get the minimalist, high-end design idiom faucet.
The INOVO Forte combines perfect beauty with function. The professional spray can be pulled out, turned and swiveled 360° and operated with one hand. Furthermore, the high arch and 140° swivel arm allows clearance for full-sink coverage when cleaning and filling tall pots. Easily switch back and forth between the spray and normal water flow without having to turn off the water. Size fit 35mm basin opening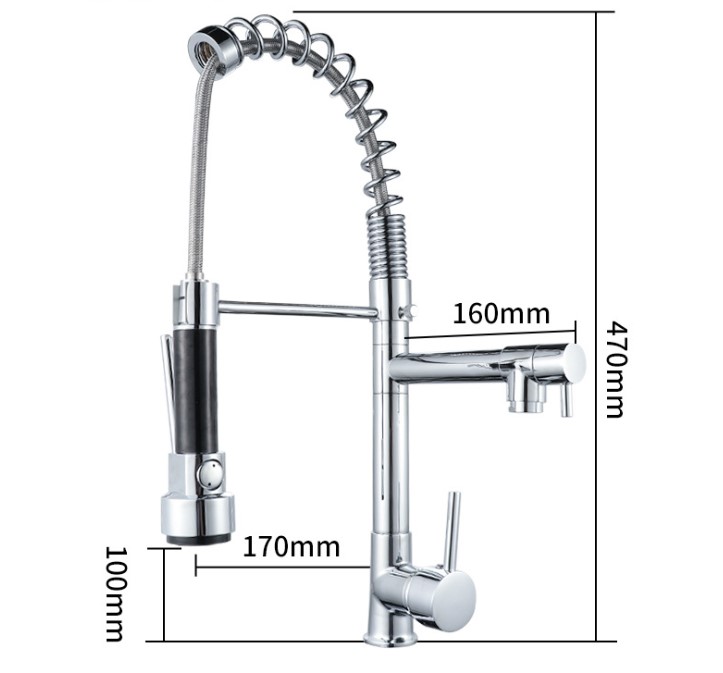 INOVO® Forte mixer kitchen tap faucet in Sliver
10 Year local warranty provided
RM590 Only / Retail Price RM890
( You Save RM300! )
Nett Price, No GST and Free Delivery
German Design & Technology
SUS304 Stainless Steel material
We accept "Cash On Delivery" payment mode.
INOVO® Forte is Certified and Approved by PUB Water Efficiency Labelling Scheme (WELS) in accordance with the product quality standards and requirements. We also pass the performance tests and quality assurance tests and meet the qualification criteria by Singapore Laboratory Services Certification Body (SLSCB) an independent, third-party Certification Body, accredited by the Singapore Accreditation Council (SAC) to ISO/IEC 17065: 2005 for being competent and fully compliant with the relevant national and international standards and/or government standards and stipulations.
In addition, our product certification is also a testament of the high standards that we have achieved and demonstrated of competency and reliability.  SAC-accredited Certification Bodies are globally recognized by Multilateral Recognition Arrangement (MLA) members that span across 38 economies worldwide.

FEATURES
Single side lever handle is simple to use and makes adjusting water temperature easy.
Double tap function for easy hook up to a water purifier
High-arch swing spout offers superior clearance for filling pots and cleaning.
Solid brass construction for durability and reliability
INOVO finishes resist corrosion and tarnishing, exceeding industry durability standards over five times
Single side lever handle is simple to use and makes adjusting water temperature easy.
INOVO ceramic disc valves exceed industry longevity standards over two times for a lifetime of durable performance
Fluid design lines for ease of cleaning
Flow rate: (5 Litres/minute)
Mixer ( HOT/COLD selection)
Eco-Flow®

-labeled 1.2-gpm faucets use at least 45 percent less water than standard 2.2-gpm faucets while still meeting strict performance guidelines.

INOVO PROClean™ sprayface features an easy-to-clean surface that withstands mineral buildup.
MATERIAL
Premium metal construction.
INOVO finishes resist corrosion and tarnishing.
MEASUREMENT AND INSTALLATION
Flexible supply lines included
Water Conservation & Rebates
Size fit 35mm basin opening
Height is 48.5cm
This product meets water savings requirements for Energy Commission (CEC)
Product FAQ:
Q: How do I know if the your kitchen tap can fit my basin?
A: If your current kitchen tap is hot and cold with 35mm opening. Then it will be able to fit. You can check with your basin supplier or open up your current kitchen tap and measure the opening to confirm
Q: My house only have cold normal water supply. Can I still install it?
A: For cold tap, you will need an adapter please check with your installer and make sure your basin hole opening is 35mm. You can check with your basin supplier or open up your current kitchen tap and measure the opening to confirm. You can also choose to open your basin opening by 10mm wider if you need. You can check with the installer regarding this.
Q: If i need installation how does it work?
A: We supply the product with Free Delivery included. You can easily look for any handyman or plumber to assist you on the installation.
Q: What is your delivery timing?
A: We deliver between 9am-6pm from Monday to Friday and Saturday will be 9am-1pm. You can also put a remark at the order page to deliver 9am-1pm or 1pm-6pm.
Q: Can I purchase the item first and request to deliver at a later date like few months away?
A: Sure you can put a remark for the later date or just put a note that the delivery date to be advise as we understand some customer's house is still under renovation.
Q: Do you have a showroom to view the items or any distributor shops where we can see the items?
A: Our office is a warehouse not a showroom so there is no display of our products and all items are brand new sealed in box. We supply directly to customer without distributor so that consumer can enjoy attractive low pricing without any markup from local stores.
Q: How long is the warranty?
A: It is covered with 10 years refer to our warranty page.
Q: Is there a refund policy?
A: Within 7 days all items purchase from us can be returned for a refund subject to term and conditions.
Q: How to buy this product?
A: Simply add item to cart and checkout. We will provide Free Delivery to you.
Q: After I make payment online, can I do a self collection at your office today during office hour?
A: Yes after you place an order online. Please email your order number to [email protected]. We will provide you the collection details and do allow 2 hours for us to prepare your order.
Q: Can we pay cash at your warehouse and collect today during office hour?
A: Yes, please place an order online from our website and choose bank transfer method. No payment will be required just leave us a remark at the order page that you need to self collect and give us 2 hours to prepare your order. We will email you the collection details and you can just pay cash at our warehouse.
Q: We are worried if I pay by credit card and will not receive the items, can you accept cash on delivery?
A: Yes, please place an order online from our website and choose Cash On Delivery method. No payment will be required before you receive the items. This is a promise to our customer and quality assurance for all our products.
( NETT Price, No GST and FREE Delivery Included! )
___________________________________________________________________________________________________________________________________________________________________________
SERVICE & SUPPORT
___________________________________________________________________________________________________________________________________________________________________________
Have a question about this product?
10:00am – 6.00pm (Monday – Friday)
Closed on Saturday, Sunday and Public Holidays